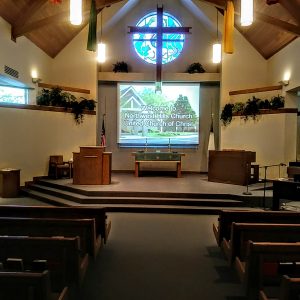 Central to our church are the opportunities for worship, prayer and praise. Our worship service is at 9:30 a.m. every Sunday, with Holy Communion celebrated on the first Sunday of each month. You are always welcome to worship with us. Our bulletins/programs are easy to follow and our guests are not expected to contribute to the offering. Come, praise the Lord with us, and bring family and friends! Please check the current newsletter for any occasional/seasonal changes to the worship schedule.
Sunday School for school-age children is held most Sundays.
Youth Bible Study is held every Sunday except the first Sunday of the month so any confirmed youth may take communion and enjoy the service with their families. Please see the newsletter for more information.
Nursery Care available for infants up to children age 5 years during worship service in room 115.
Christmas Eve services are celebrated at 5:00 p.m. and 11:00 p.m. each year.
                                                                                   Watch Past Sermons on our YouTube Channel.
"Songs for the Soul"
Lent 2020 Sermon Series
What's your favorite song? There's something about music and words put together through song that speak to our souls. The Psalms are songs and poems written by the people of God to express a range of emotion—from praise and thanks to God to the cry to God for help. This Lenten season, we'll join with the ancient people of faith and lift our voices and souls to God.