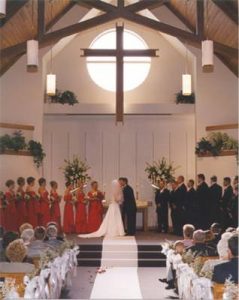 Northwest Hills Church is a beautiful place to begin your marriage and celebrate God's love in your lives.
You need not be a member of Northwest Hills to be married here or by our pastor in off-site locations. Our wedding services are Christian based. Those previously married are also invited to make a new beginning.
If you are interested in being married at Northwest Hills, please contact us at (402) 572-8392 as to the availability of our church and/or pastor, associated costs and to visit our sanctuary.
Couples are required to participate in premarital counseling sessions beginning six months prior to the wedding date. Our pastor utilizes an assessment called PREPARE/ENRICH to help equip couples with skills and insights to foster healthy relationships. The review of this assessment will require 3-4 follow-up sessions. These sessions are for all couples including those previously married.
Our wedding coordinator will also assist you at the church with your decorations, candles, the rehearsal, pictures and sound.
The cost to non-members for a wedding at Northwest Hills Church is approximately $1,100. This fee includes:
– A minister, including premarital sessions, planning and the wedding
– An organist/pianist
– Wedding coordinator
– Building costs
– Custodial services, both before and after the rehearsal and the wedding
A non-refundable deposit fee of $100 (which is credited to your final total) must be paid to reserve your wedding date on the church calendar. All other fees are due two weeks prior to the wedding.
December weddings are subject to approval by the pastor and are dependent upon ongoing church activities. If a December wedding is approved, the sanctuary décor in place for Advent/Christmas will remain in place.