E.P.I.C. (Endless Possibilities In Christ) – Sunday Night Youth Group
Are you in 6th – 12th grade or know someone who is? If so, this is the place to be! Come join us the third Sunday evening every month from 6:30-8:00 P.M. and start your week off with God and good friends! Join us for fun games and fellowship, a time for Bible study and prayer and a place to meet and develop great friends! Check out our newsletter for more details and special events.
2019-2020 EPIC Permission Slip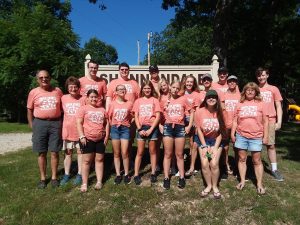 Vacation Bible School
If you are age 3 to 12 or know someone who is, we would love to have you join us for an awesome time one week every June for Vacation Bible School which runs 5:30 to 8:00 p.m., Monday-Friday. (Then show off your songs and dances the following Sunday morning.) Fun games, music, friends, and learn Bible Lessons in the most fun way. Dinner provided. If you are an adult who would like to volunteer, please contact the church office for more information about how to get involved.